Philippines Suspends Patrols With U.S. in South China Sea
Step, while small, is first sign of split in alliance since election of President Rodrigo Duterte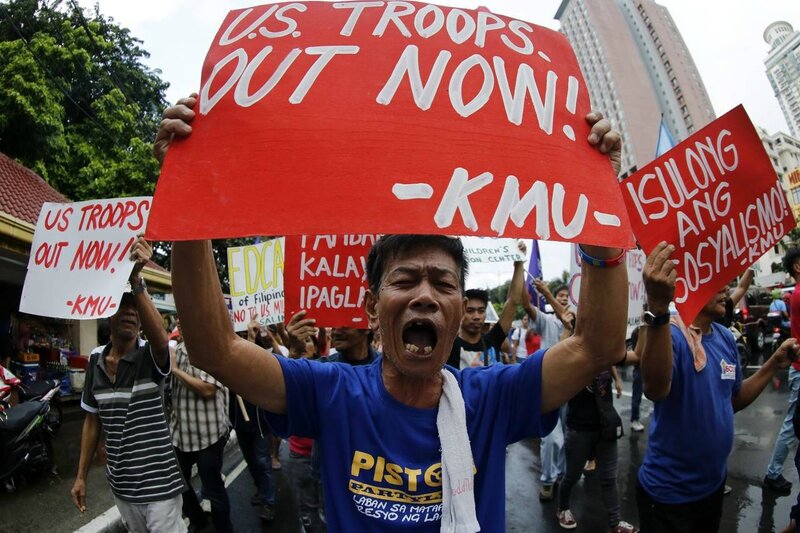 By
Updated Oct. 8, 2016 12:20 a.m. ET
MANILA—The Philippine defense chief said Friday that he had suspended participation in any joint patrols with the U.S. of the disputed South China Sea, the first concrete sign of a crack in the military alliance following the election of President Rodrigo Duterte.
Defense Secretary Delfin Lorenzana also said he also would ask a small detachment of American troops providing counterterrorism assistance on the southern island of Mindanao to leave as the president requested. But he said that would happen only after the Philippine military can carry out such operations on its own, something that could take years.
Since taking office June 30, Mr. Duterte has caught U.S. officials and his own military off guard with seemingly off-the-cuff pronouncements with potentially far-reaching strategic implications. His aim, he said, is to loosen ties with the U.S. and give his Southeast Asian country a more "independent" foreign policy, with "new alliances" with China and Russia.
In the wake of several anti-American outbursts, defense officials had repeatedly said they were waiting to see whether the president's words amounted to actual policy, while U.S. officials said they hadn't been notified of any changes to the alliance.
The U.S. Embassy in Manila on Saturday confirmed the U.S. has not received any formal notification from Philippine officials regarding a halt to joint military patrols or exercises.
Mr. Lorenzana's news conference indicated that the military was still sometimes out of the loop. Asked about the president's statement last week that he wants to end all military exercises with U.S. forces, Mr. Lorenzana said his department was still awaiting an official directive. "We heard it on TV," he said.
The two countries conduct 28 such drills annually, Mr. Lorenzana said, including one that began Tuesday and ends Oct. 12.
Mr. Lorenzana said there had only been two exercises involving the U.S. and Philippine navies in the South China Sea, but any future activity there was now "suspended."
Asked if the U.S. had been informed, he said "they know it already. There is no patrol in the South China Sea."
Armed Forces spokesman Brig. Gen. Restituto Padilla said later that no formal notice had been sent.
Mr. Duterte has said he wanted the patrols halted to avoid antagonizing Beijing, even though the Philippines won an arbitration case over the disputed territory in July, shortly after he took office.
Mr. Duterte also said he wanted U.S. troops out of Mindanao for their own safety. The Philippine military is engaged in a major assault against the extremist Abu Sayyaf group there and relies on U.S. for surveillance support.
Mr. Lorenzana said he had told the president that the 107 U.S. personnel in Mindanao could protect themselves.
"All they do is operate their drones and some intelligence equipment to help our troops in the south," the defense chief told reporters. "Later on President Duterte said he doesn't want [them] to leave immediately but maybe in the future."
He said the Philippine military already planned to have the Americans leave "when we acquire our own drones."
Washington and Manila had been deepening defense ties in recent years to counterbalance China's rising influence, especially in the South China Sea, where Beijing has reclaimed land and constructed military bases in disputed areas in recent years.
A 2014 defense pact envisaging American troop deployments to Philippine bases had appeared to entrench the relationship. Mr. Duterte's dramatic change of course now leaves those plans uncertain.
Foreign Secretary Perfecto Yasay Jr. spelled out the president's position more explicitly in a Wednesday Facebook FB 1.59 % post entitled "America has failed us." It was time for the Philippines to free itself from the "shackling dependency" on the U.S.—which ran the Philippines as a colony until 1946, he wrote.
Asked about the post, Mr. Lorenzana said "there is truth to their statement."
Since a mutual defense treaty was signed in 1951, the U.S. had only provided the Philippine military with "hand-me-downs," he said. He also criticized past Philippine governments for not funding new equipment.
Mr. Lorenzana said he had tried to reassure his U.S. counterparts about the endurance of the alliance, but said the president was "sensitive" about criticism over his "war on terrorism and drugs especially."
His first three months have been marked by a violent assault on alleged drug dealers and other criminals, in which more than 3,400 people have been killed, according to police figures. The U.S. and others have repeatedly raised concerns about human rights violations and respect for due process and the rule of law.
Mr. Duterte "feels that, 'Why do they criticize me when I'm doing something good for my country?'," Mr. Lorenzana said.
Write to Trefor Moss at Trefor.Moss@wsj.com